Hi everyone!
I am Eric hanuise, from Flatlined Games.
In the beginning of this year, I published Dragon Rage, a game by Lewis Pulsipher, author of Britannia.
This release would not have been possible without the use of Campaign cartographer 3, City Designer 3 and the symbol sets.
Dragon Rage is an hex-and-counter wargame, that was first published in 1982 by Dwarfstar Heritage, a now long disappeared miniatures publisher.
When I licensed the game for republication with the author, I first tried to contact the original map artist, but without success.
I investigated several options to have the map re-created, and CC3/CD3 was THE solution to my woes.
Profantasy's licensing agreement is a killer feature, there is no other map-making software on the market that allows commercial use of the software's output, and has such high quality and consistent results.
Not only was I able to quickly recreate the original game board's map with great precision, I was also able to create a second map to use on the board back, offering two games instead of just one!
Here is the original map, of Esirien, a walled city by the sea. in the game, the city is attacked by Dragons and other vile creatures, while humans defend it :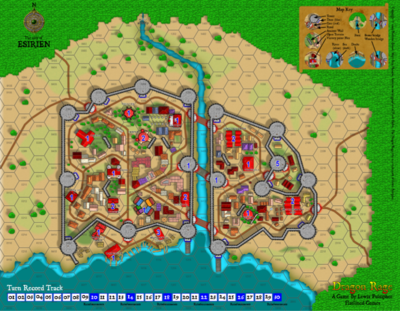 The combination of CD3 vector houses and bitmap symbols was just perfect to highlight the houses that serve as objectives in the game (with blue numbers).
The shading on the walls, trees and houses are on different heights and provide a realistic look to the map.
And here is the second map I created, Nurkott, an Orcish oppidum, attacked by Humans and various creatures :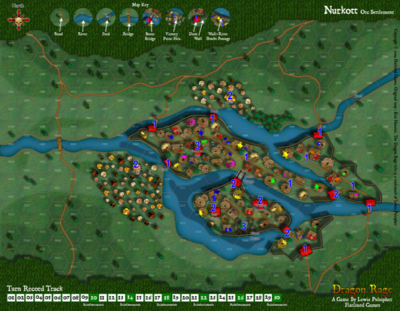 You can learn more about Dragon Rage on the game page on our website .
We at Flatlined Games were so impressed by CC3 and CD3 that we placed a 'mapped with Campaign cartographer' logo on the box's back 🙂