ProFantasy's sister company Pelgrane Press publishes the award-winning 13th Age roleplaying game.
Written by the co-designers of 3e and 4e, it's the game that that they play at home. 13th Age combines the best parts of traditional d20-rolling fantasy gaming with new story-focused rules, designed so you can run the kind of game you most want to play with your group. Combat is fast and exciting, skills are simple and flexiblew and based on the character's history, and each character is tied to the setting and the powers of the world – the Icons.
If you play D&D, it won't take you long to get started.
Free 13th Age Maps and Tools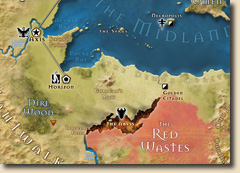 ProFantasy worked with Pelgrane to produce some amazing cartography for 13th Age.

We've bundled up this CC3+ content for you free to celebrate the 13th Age Humble Bundle. It includes a map-making style, map collections and the 13th Age QuickStart rules.
You can download it here.
The 13th Age Humble Bundle

The 13th Age Humble Bundle includes almost everything for the 13th Age roleplaying game line at a low, low price.
Combining streamlined combat with excellent indie story game design, and packed with a collection of beautifully-crafted books, music, digital maps, and more such as 13th Age, 13 True Ways, and the 13th Age Bestiary, take your character from a plucky adventurer all the way to become an epic hero! Plus, your purchase will support Oceana (supporting the reduction of plastic pollution).
Get the Bundle here.